The Top 5 Commercial Dehumidifiers
Excessive indoor moisture leads to various problems. It can damage walls and floors and even lead to structural damage that compromises the building's safety. For those breathing indoor air, it can lead to health problems. If the moisture levels are high, you can lower them with dehumidifiers.
But regular units that regulate dampness levels aren't always enough. What if you are handling a major renovation project? What if you experienced a basement floor and now need to deal with excess moisture? That's where a commercial dehumidifier comes into play. These are dampness control devices more potent than standard at-home appliances.
If you'd like to learn more about the top commercial dehumidifiers, check out the guide below. It covers the basics about these appliances and lists the most popular market models!
What Is a Commercial Dehumidifier?
Industrial-grade dehumidifiers are the more powerful versions of standard devices. Its basic purpose is identical - to control dampness in homes. They serve for commercial purposes when you need to reduce moisture in demanding environments. Those could be crawl spaces, areas where disasters have struck, and industrial sites.
There's no difference in the working processes of dehumidifier commercial and standard types. The most popular models use the condensation principle to reduce air moisture.
How Do Commercial Dehumidifiers Work?
Fans integrated into the dampness reduction systems draw the air into the device. As the air enters, it touches the cooling coils. Most products use refrigerants to secure low temperatures. The interaction leads to the air cooling down. That reduces moisture, which turns into water droplets. These move away into a container specially designed to collect humidity.
Dehumidifier now uses a heating system to revert the air to an acceptable indoor temperature. Once it's warm enough, the device sends it back into the environment. 
Although these are more popular, you also have desiccant dehumidifiers. They use a wheel with silica gel to remove the dampness.
Factors to Help Choose the Best Dehumidifier
If you've set your mind on commercial dehumidifiers, here are some features to analyze:
Size and weight. Most commercial humidifiers will weigh 50-100 pounds. While the size varies, these appliances are much smaller than a couple of decades ago.

Area coverage. Some devices have the best performance in compact rooms up to 1,300 square feet. Other commercial dehumidifiers can cover three times as much.

Humidity range and airflow. Depending on the unit, the desired dampness levels could go from 25% to 95%. The general rule is to target 30-50% humidity for indoor areas. As for airflow, it should be at least 150CFM. The higher it is, the better the efficiency of that unit.

Capacity. The industry uses "pints per day" to show a dehumidifier's capacity. The lowest number for commercial-grade devices is 50, although many can remove four times more water.

Temperature range. You need the dehumidifier to operate at low and high temperatures. Automatic defrosting is a convenient addition that promotes the unit's durability. The acceptable temperature ranges are from 33F to 100F or higher.
What Are the Best Commercial Dehumidifiers?
Industrial humidity control devices share high strength and durability features. The difference lies in the details, such as portability, airflow details, and Wi-Fi support. The best commercial dehumidifier fits your criteria and ticks all the performance boxes you need. Check out the following suggestions and pick your preferred system!
The dehumidifier weighs about 81 pounds, which is impressive considering its strength. It's relatively light and easy to move. It has a handle that folds down if you need to carry it. The wheels will simplify moving around the same floor.
Alorair added the highly efficient MERV-8 filter. You can access it easily to check on its condition while replacing it is necessary on a yearly level. The roto-molded housing is durable to scratches and dents. Its strength protects the inner components from damage. That's imperative in highly-humid environments.
The condensate pump can divert water away over 20 feet. It secures installation at any location. While you can move the dehumidifier, it's possible to duct it to the HVAC and find a permanent position. The dimensions are 26x15.5x17.5 inches.
Alorair Storm SLGR uses super-low grain refrigerant technology. It removes maximum moisture each second and can eliminate at least 125 pints daily. The product is energy-efficient, with the current draw set at 8.3Amps. You can control the dehumidifier over a Wi-Fi app. Its sheer power makes it suitable for disaster restoration, such as after a flood. The manufacturer offers a five-year warranty.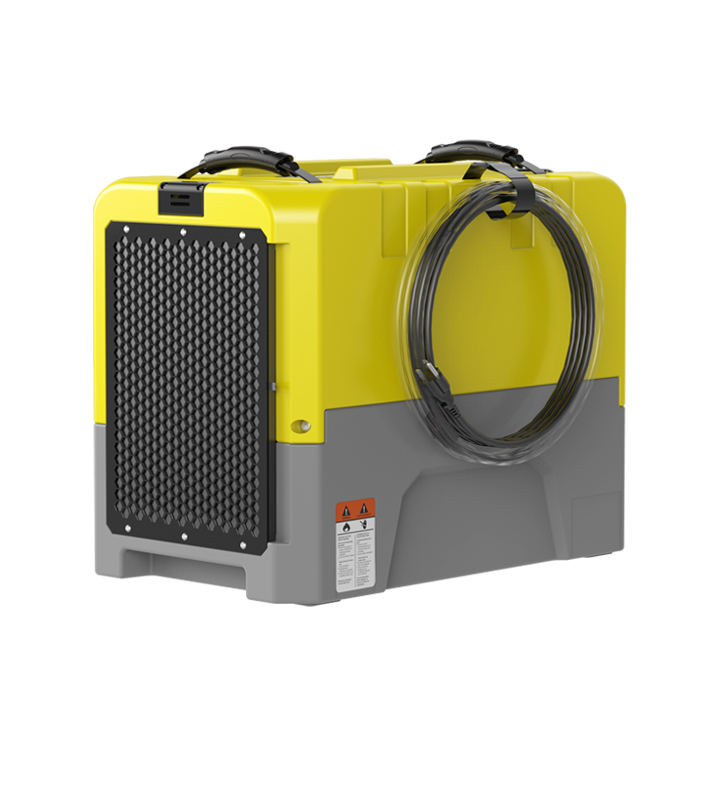 Alorair Storm is the best example that these devices don't require breaking the bank. A commercial dehumidifier rental is expensive unless you plan to use it only once. It's better to invest in an entry-range dampness control system like this one.
The product doesn't have Wi-Fi support, but it's easy to control. You get a detailed user manual with installation instructions. The device has an automatic humidistat control and comes with a condensate pump. This allows installation at any spot. The dehumidifier has a capacity of removing 85 pints daily. It's enough for compact spaces, although more patience might be necessary for demanding tasks.
Alorair implemented automatic defrosting that allows use across different seasons. The maximum space coverage is up to 2,300 feet. It's suitable for heavy damage restoration projects. You can use it for de-flooding, carpet and furniture drying, etc.
While the default humidity target is 50%, the product can operate at levels from 35% to 95%. The device stays surprisingly quiet, with the noise level going up to 58dBa. While it's not as powerful as other commercial dehumidifiers, it's suitable for demanding tasks.
You immediately notice the dehumidifier's compact size. Its measurements are 17x14x23 inches, and it weighs only 58 pounds. It's among the smallest commercial-grade dehumidifiers. However, there's no compromise about performance.
Alorair Storm DP uses the high-quality MERV-8 filter this manufacturer prefers. It has a 150CFM airflow, and its capacity is at around 50-60 pints per day. The device best performs in areas up to 1,300 square feet. It only uses a 115V voltage option, so consider this before acquiring it.
The manufacturer added a condensate pump as the draining option. The housing is incredibly durable. Storing hoses and wires is simple, and the same applies to maintenance. You can clean all components by opening the shell.
Alorair secured ECL certification and Wi-Fi support. You can install an app to ensure intelligent device control. The large LCD screen makes control even easier. The built-in humidistat supports moisture levels from 25 to 80%. If you need to move the dehumidifier to another location, you have sturdy wheels.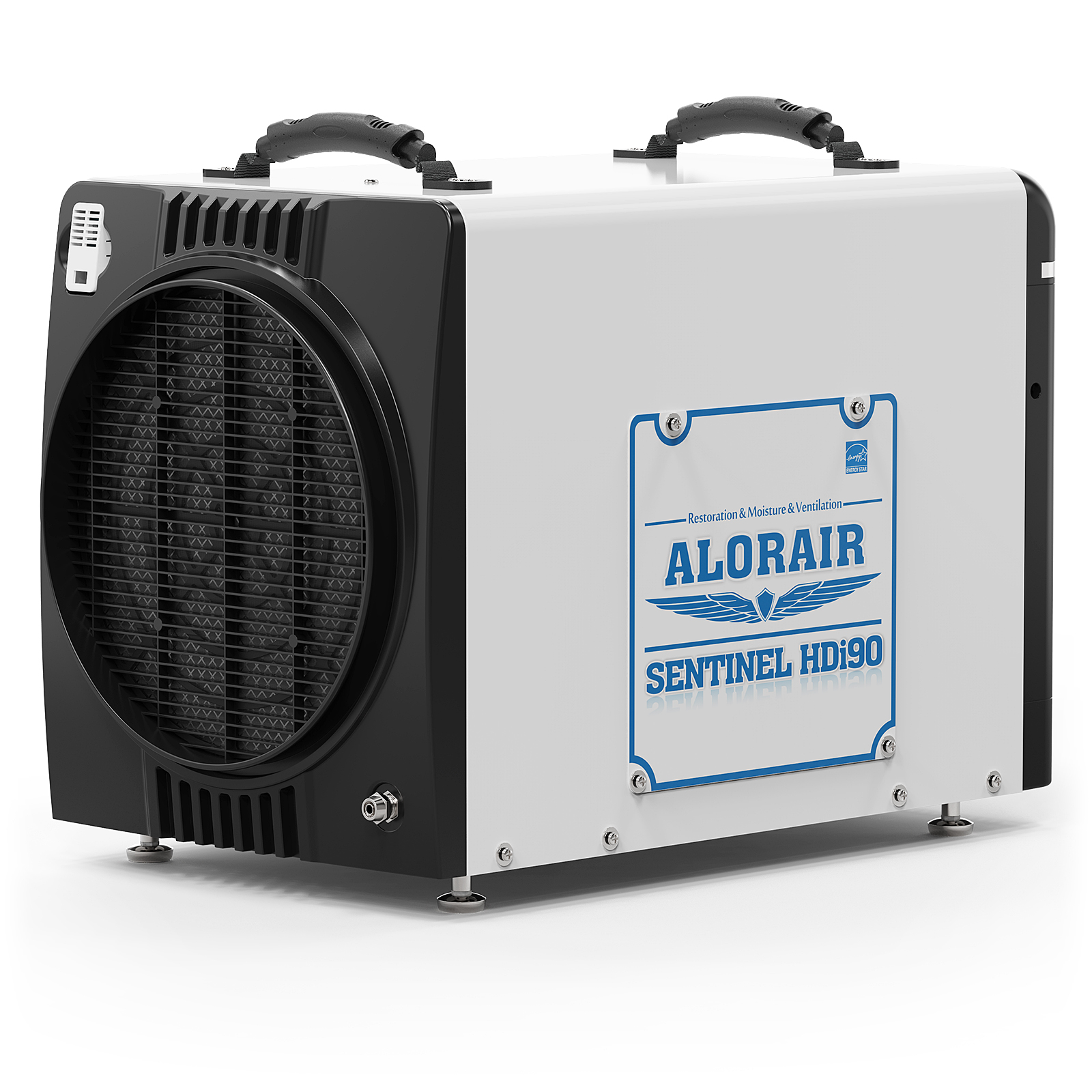 If aesthetics matter, you'll appreciate the neutral colors dominating this dehumidifier. It's not red or yellow like some other models, making it less noticeable. The box also shows the Energy Star rating, which ensures maximum efficiency and minimum electricity costs. 
The manufacturer offers a 5-year warranty, so the unit's durability is impressive. All of that guarantees exceptional bang for the buck. And if you find this commercial dehumidifier for sale at a discount, the price could get even lower.
The performance is nothing short of fantastic. Sentinel HDI90 can remove up to 90 pints or liters of water daily. Thanks to the condensate pump addition, you can divert waste over 15 feet from the device. Alorair uses a MERV-8 filter that's washable for extended use.
You'll find adjustable feet for easy positioning. Humidity control is possible via a remote. The optional humidity levels go from 35% to 90%, and the functional range is from 33F to 104F. The dehumidifier works at a 210CFM airflow and uses 5.56Amps of current.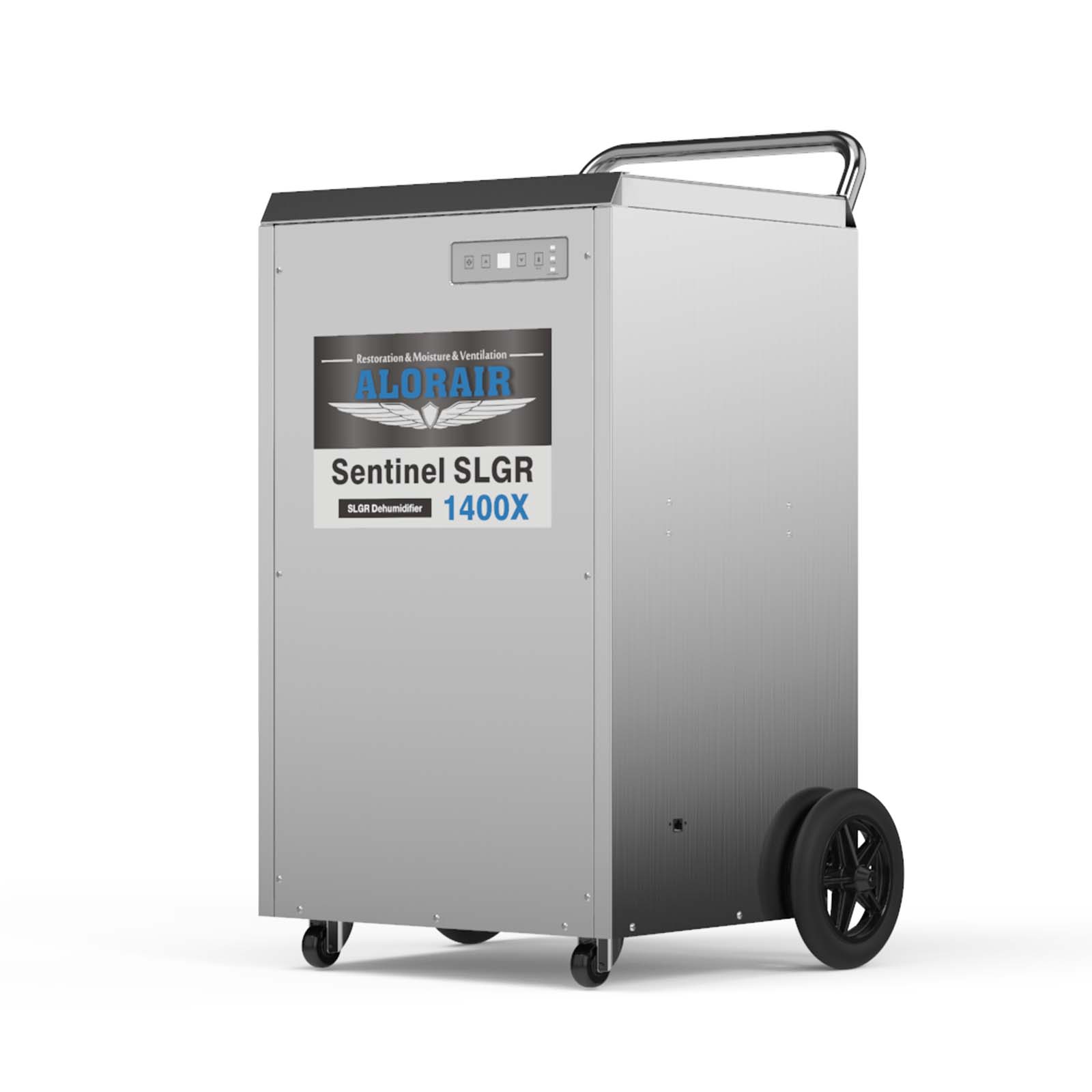 This dehumidifier also belongs to the Sentinel collection. The difference is that it uses the latest Super LGR technology. That secures efficient and precise moisture maintenance. You'll find two filters with MERV (minimum efficiency reporting value) ratings of one and ten. It ensures the best performance in removing moisture. It will also capture small particles of dust and debris.
Alorair Sentinel SLGR operates at 420CFM. That airflow makes it powerful and suitable for areas up to 3,600 square feet. The fan is strong but quiet, with the noise level lower than 60dBa. Apart from operating at low temperatures down to 33F, it can also work in conditions up to 110F. That's higher than some similar units, and the same is true for capacity.
The dehumidifier can remove up to 140 pints daily. You'll notice a small footprint, but the device is 36.6 inches high. It also weighs over 100 pounds. The manufacturer added a professional look with stainless steel color dominating the design.
Final Thoughts
Dehumidifiers have been around for decades. But they've developed significantly during this century. Today, these units are capable of performing even the most demanding tasks. They can help with flooded areas and do an excellent job at industrial sites. The trick lies in finding a commercial dehumidifier that fits your preferences.
Some manufacturers design models using the latest Super LGR technology. It secures the best efficiency and results in controlling dampness levels. You can't go wrong with an SLGR dehumidifier for any task, from drying furniture to reducing dampness in the entire house. And the best part is you can order these devices online, ensuring fast delivery to your doorstep. Don't hesitate to pick your favorite and see its power in dehumidifying even the most demanding areas!