ALORAIR STORM SLGR 1600X DEHUMIDIFIER
SMART WIFI DEHUMIDIFIER, 160 PPD COMMERCIAL DEHUMIDIFIER WITH PUMP, COMPACT, PORTABLE, AUTO SHUT OFF, INDUSTRIAL DEHUMIDIFIER FOR DISASTER RESTORATION 
THIS UNIT CAN EFFECTIVELY EXTRACT MOISTURE FROM THE AIR IN HOMES OR WORKPLACES. 
Water damage is a pain. It can happen in so many different ways from flooding from a burst pipe to rain coming through the roof. But it always means lots of effort and expense to fix. Water damages your possessions and increases your electricity bill. It makes the air within your space a bit harder to breathe. Unbearably humid weather, flooded basements, and hurricanes are disrupting our lives.

All these problems lead to high humidity then damp and muggy air, causing not just excessive wrinkles and dust, but also musty smells and infections. Mildew can form on clothes, electronics, books, papers, paints, statues, wooden furniture, and basements due to excess moisture.

AlorAir Storm Super Low Grain refrigerant (SLGR) 1600X dehumidifier is a blend of induction airflow, heat exchange technology, and super cold refrigerant solution, and a high-performance refrigerant that makes use of a special heat exchange mechanism to dry the air around your space. Alorair has developed it in a way that it sucks in the moist air and releases dry air into your space at record speeds.
In short, the Storm SLGR is a complete deal. With it, you can easily address all three of the aforementioned issues in one go. It makes use of a special heat exchange mechanism that efficiently turns away the moisture from your home while also giving off cool, dry air that you have been longing for all this while.

Alorair Storm SLGR 1600X dehumidifier will dry your space without raising energy bills or causing damage, keeping both your property and finances safe from future water damage and mold growth. Regardless of the humidity level in your surroundings, this device will effectively extract moisture from the air.
Alorair has designed the Storm SLGR 1600X dehumidifier keeping your need to make your home better and healthier in mind. The SLGR is silent, compact, and does not require maintenance or technical support after installation.
Why Buy AlorAir Storm SLGR 1600X Dehumidifier
Dealing with a flooded home or office? This will cut down time and money spent on cleaning. It makes the air in your room dry and pleasant-smelling, and it keeps it that way.


It is an ideal dehumidifier for particularly highly humid surroundings and flooded environments.
It is a silent yet mighty machine that not just gets rid of humidity but also ensures a sound sleep.


There is no hassle in maintaining it. Alorair has taken care of everything from the air filter to modifying low energy consumption.


The device reduces moisture in the air around you by taking the moisture out of the atmosphere. It relies on a highly powerful motor that can drive moisture out of the atmosphere quickly and efficiently.


The fact that the Storm SLGR 1600X is made to consume as little power as possible indicates that the manufacturer has considered the plight of millions of people who experience high humidity surroundings and floods in the Winter and Spring times. You can save close to $300 every year as a direct benefit that accrues from using the unit and not the conventional ones.



It is 60% faster than the ordinary dehumidifier, more efficient, and highly effective.
The equipment features an inbuilt storage space for the water pipe and the power line.
The equipment enables you to quickly assemble and disassemble. It is designed with the end-user in mind. So, most of the operational aspects are straight forward. Users can open the device and service it with ease.
The body of the equipment is coated with non-corrosive paint that helps to prolong the life of the air drier.

 

Why your Space needs the Storm SLGR 1600X Dehumidifier
1.  To keep your environment fresh and dry
The need to keep the surrounding of human habitation dry cannot be overemphasized. The Storm SLGR 1600X is a special gift to everyone who values the benefits of a comfortable setting. The inner room space around your residence and workplace needs to be kept fresh, free of wetness and excessive moisture so that you can be invigorated in your activities.
2.  To maintain good health and general well-being
Everyone desires to stay in an environment that encourages healthy living. Flooding not only causes inconvenience but also leads to the advent of ailments among human beings living under the conditions. Flooded environments are the perfect environment for the multiplication of pests that may be disease vectors among humans. Indeed, insects such as mosquitoes are known to thrive in wet conditions.
Wetness also leads to highly humid air. Humid inner spaces in residential spaces and offices provide the required conditions for mildew, mold, and fungi to develop and thrive. These primitive plants are known to cause ailments among humans. Fungi are especially stubborn and can significantly reduce the quality of life. All three are known to trigger allergies in many people.
Fungi have the capacity to grow on the human body and even on the inside. It leads to health complications including allergies such as eczema and a myriad of other health issues that lower the quality of life. Conditions such as eczema can be managed better if the surroundings are kept optimally dry. The Storm SLGR 1600X has been designed to extract excess moisture from the air space around rooms.
3.  Protect property
Excessive water lying around could cause damage to property. Water is a destructive agent if it is not managed well. Floods can also destroy the basic foundations and structures of buildings and make them weak. It also has the capacity to weaken the metals and wood used to support houses and other structures used for human habitation and business. When it is flooded indoors, the damage it can cause is immeasurable. The Storm SLGR 1600X could be your sure solution to such possible losses.
The Storm SLGR 1600X is what you need in excessively humid conditions to make sure that your appliances remain usable even when you are away. Excessive moisture also destroys electrical and electronic appliances. It leads to rusting of the inner parts and compromises the performance of many household appliances. In addition, moisture could also short the power systems around your home.
The mold easily grows on shoes and on clothes. It can cause losses when it attaches to expensive or favored apparel. These primitive plants do not choose where to grow. So, the next crop of mold could be on the lapel or collar of your favorite suit in the wardrobe, on your shoes or shirt. 

4. Workplace productivity 
In the workplace, such developments can lower the productivity of your staff because the workplace ceases to be a place your team wishes to spend time. They will be in a hurry to leave because of the discomfort caused by moist conditions. Similar problems may suffice at home.

AlorAir Storm SLGR 1600X Dehumidifier is ideal for:
Use in a wide range of water damage restoration environments.
Wet and excessively humid environments

Distant offsite tasks that need frequent movement

Emergency water damage restoration

Domestic and Commercial use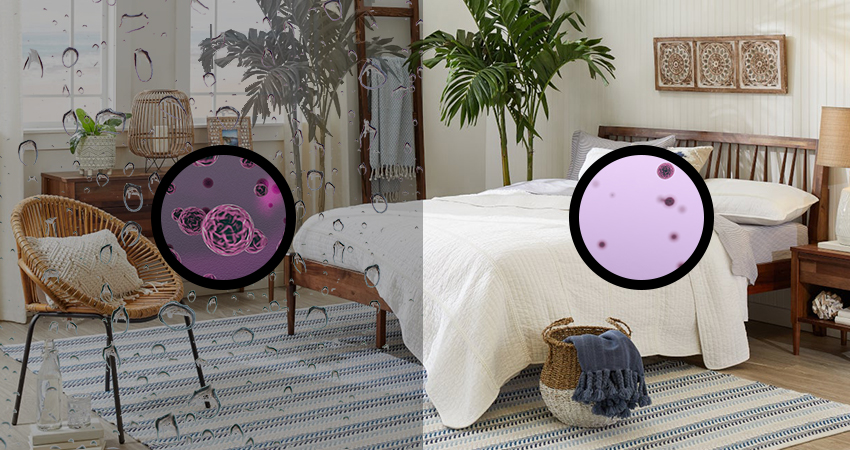 How Storm SLGR 1600X Compares with Other Products in the Same Niche
Most of the other products used in remediation and dehumidification are of the LGR range. LGR units comprise two separate components. One being the condensing unit and the other being dehumidifying unit. The dehumidifying unit has a fan with internal blades which are usually made up of aluminum.

Conventional water damage restoration equipment operates by drawing air filled with moisture and passing it over a set of coils cooled to an extremely low temperature. Water is condensed on the coils. The dry air is heated to a normal temperature and pumped back into the room. 
On the other hand, the Storm SLGR 1600X is designed to handle large amounts of moisture in the air and can dry up such air without strain. Also, Storm SLGR 1600X is also a preferred choice by many because it does not use too much energy.
Storm SLGR 1600X, one of the most powerful dehumidifiers from Storm, comes with great COP 3.1 power and an outstandingly large capacity of 160 PPD.

Allows us to dry the floor quicker than our regular drying equipment can. This is because it uses more power and removes moisture from the air faster than other dehumidifiers.
The unit is designed to make its transportation easy and comes with a tension rod on its top.  The equipment is fitted with a rotational molding rugged housing that makes it an ideal choice for working in rough and tough surroundings. 
The unit is not only sturdy but can also take in the effects of the elements in the environment with ease. Note that the equipment does not corrode under wet conditions.


PRODUCT SPECIFICATIONS
| | |
| --- | --- |
| SLGR Microchannel: Excellent In Low Humidity and High Temperature | Size For: Up to 4,000Sq.FT |
| Power: 115V/60HZ | Filter: G3 filter |
| Airflow: 400CFM,680CMH | Sound Pressure Level: <63 DBA |
| Refrigerant: R410A | Wheel: 2 Small Wheel |
| Functioning Temperature Range: 33-122°F | Defrosting Control System: Automatic Defrosting |
| Capacity115V(80ºF-60%): 160Pints/Day | COP: 2.4L/Kwh (115V/60Hz) |
| Weight: 99Ibs | Dim (L×W×H): 30.9" ×20" ×16.9" |
| Loading quantity:40"H: 120 Sets;40": 280 Sets; 20": 280 Sets | Draining: Condensate Pump |
| Functioning Humidity Range: 35~90% |   |
Guides & Documents
What's In The Box
1 - AlorAir Storm SLGR 1600X dehumidifier
1 - User Manual
-------
Why Your Space needs the Storm SLGR 1600X