ALORAIR Sentinel HD55 BASEMENT & CRAWL SPACE DEHUMIDIFIER REMOVAL 120PPD (SATURATION), 55 PINT COMMERCIAL DEHUMIDIFIER, ENERGY STAR LISTED, 5 YEARS WARRANTY, AUTO DEFROSTING, CETL, OPTIONAL REMOTE MONITORING
Ensures that maximum moisture is extracted at the least cost

Bacteria, molds, mildew tend to thrive in damp places like your basement and other crawl spaces. Their presence causes allergic reactions in people especially children with weak immune systems. They are prone to chest congestion, coughs, colds, and stuffy noses. Poor air quality resulting from dampness is another reason for chest infections.

That being said, it is important to regulate humidity swings at all times for the regulation of the environment in your house.

AlorAir®'s basement dehumidifier is the best solution. It produces no noise and it features automatic systems that ensure that it can operate continuously, 24 hours a day. This means that you won't have to worry about the humidity of your basement levels anymore since you can rely on this dehumidifier to take care of it.

AlorAir® Sentinel HD55 Basement & Crawl Space Energy Star Efficiency Dehumidify helps maintain healthy comfort even in environments with high levels of moisture and humidity.

This product uses high-efficiency Peltier modules that give you energy savings of up to 65% compared with traditional systems. The dehumidifier also comes equipped with a humidistat that improves performance by controlling moisture levels at a programmed point set by the user.
Why Buy AlorAir Sentinel HD55 Basement & Crawl Space Dehumidifier
The unit has a track record and a proven performance. It is a solution to problems caused by Mother Nature as it removes moisture through the refrigeration process. It features a high rotary compressor which ensures that maximum moisture is extracted at the least cost.
Best dehumidifier for use in basements, crawlspaces and other enclosures. The dehumidifier comes fitted with a humidistat whose job is to monitor the conditioned space. The idea is to start dehumidifying when the humidity goes above any configured point.
It works in conditioned spaces and helps to regulate the atmosphere of a place. It does this by withdrawing moisture from the atmosphere and reducing the dampness in the surrounding spaces.
Increased comfort, improves ventilation, removes odor and moisture thereby preventing mildew and rot formation in the space, increasing the durability of floor coverings, books, shelves, and various other things in your basement.


The device efficiently reduces moisture in the atmosphere. It gives you the comfort of breathing fresh air.



It is COP listed – the unit is CE, ETL  E

nergy Star 

approved. Also, it is the most efficient dehumidifier on the market. Because of these reasons, it will soon get a patent to protect the invention.


Improves basement humidity levels with its continuous drainage capabilities. Using it in your crawlspaces is convenient. 



The unit has a track record and a proven performance. It is a solution to problems caused by Mother Nature. 

It is also flexible and comes with a humidity sensor that allows you to have quick access to the unit's internal service. This allows you to service it whenever you want. 

Sentinel HD55 has excellent airflow and comes with a side by side filter. It is a well-engineered tool that is capable of removing a massive 55 pints to 120 pints of water per day. (AHAM).
Has an excellent Drainage system- unlike other dehumidifiers, the HD55 drains via the force of gravity. It allows the dehumidifier to continue and so you don't need to worry about a filled up tank. The unit cannot stop dehumidifying midstream because of a filled tank.
Why you need the Sentinel HD55 Dehumidifier
It is one of the few units with a simplified configuration and which is easy to use. The dehumidifier can be placed at any location of the house and will do the job silently.
If you have vast crawlspaces and basements, Sentinel HD55 Dehumidifier is one of the units that you can rely on to dehumidify an area. In fact, it can dehumidify an area of up to 13,00 square feet.
The unit is energy efficient. It means that you will save a lot on your electricity bills compared to anyone who chooses to use HVAC. Also, the dehumidifier comes with up to a 5-year warranty. It guarantees that the unit will give you service whenever you need it any time during the warranty period.
Sentinel HD 55 is compact and small to ensure that it fits in the smallest crawlspaces and basement. So if you have crawl spaces that you want to be dehumidified, this is one of the portable dehumidifiers you can rely on.
It is a flexible unit capable of accommodating a variety of installation options.
Benefits from using AlorAir Sentinel HD55 Basement & Crawl Space Dehumidifier
1. Protection from Diseases – Environments with high humidity are where harmful microorganisms live and harm the surfaces they reach. Their small size is often deceiving as they are able to be highly detrimental. Without proper extraction and prevention, they can bring various health risks such as allergies, skin irritations, respiratory illness, and immune-related diseases. Another harmful group that brings health risks are mosquitoes. They, too, thrive in humid places. They have the ability to infect a person with malignant diseases such as dengue or malaria. Fortunately, the use of a dehumidifier is the best proven way to prevent their growth and damaging effects.
2. Economical and Cost-Effective: Purchasing a dehumidifier is one of the best investments a person can make. It is designed to operate optimally with only a conservative use of energy. Moreover, with its long-term benefits, you are certain to have the most reliable prevention on common damages that take place because of excess moisture. Thus, investing on a dehumidifier saves you both time and money without having to do much.
3. Optimal Restoration Assistance – Because of its superb features and specifications, users are assured to obtain maximum performance to ease their restoration job. It is portable, durable, and very reliable when it comes to heavy water damage restoration projects.
4. Protection of Properties Against Damage – As the dehumidifier creates the most suitable breathing atmosphere to your home, it simultaneously keeps it inhospitable for harmful microorganisms to thrive and harm your valuables. You would not need to worry about molds in your clothes or shoes, damaged electrical wirings, and other related issues that come from having excess moisture.
5. Prioritized Safety Due to Prevention of Structural Issues – Accidents can be widely prevented when you have the constant effect of a dehumidifier at home that prevents excess moisture from weakening your home's structure and foundation.
6. Conducive Work Place for Higher Productivity – It is a proven fact that a workplace is positively affected by its favorable breathing atmosphere. By providing a clean and safe ventilation, employees are certain to provide optimal productivity and benefit from each other's motivated work ethic.


AlorAir Sentinel HD55 Basement & Crawl Space  Dehumidifier is ideal for:
Basement

Crawl spaces

Warehouses

Offices

Factories

Shops

Apartments

Store areas

Restaurants Bars

Museums

Other small spaces 

where humidity needs to be removed.

AlorAir Sentinel HD55 Basement & Crawl Space  Dehumidifier Features
The unit comes with great dehumidification features. The most conspicuous ones are:
Automatic Defrosting system - it ensures that the ice clears quickly from the coils at an operating temperature of 33F.
It is quick to access to service-it allows the owner to open and service it.
It is COP listed – the unit is CE, ETL  Energy Star approved. Also, it is the most efficient dehumidifier on the market. Because of these reasons, it will soon get a patent to protect the invention.
Remote humidistat design- This is a critical feature that makes the unit an ideal one if you will be using it in an area where remote sensing is required. It comes with an optional duct that is easy to mount. The flanges make installing and connecting it to the existing ducting system easier.
It is designed to work in low-temperature areas. Therefore, it is the most appropriate dehumidifier to be used in crawl spaces and areas with airflow issues.
It is remotely controlled. – The unit's remote control comes with a normal resume function that insulates it from noise. The remote control can be used as a switch and gives you the option of choosing an appropriate humidity sensor.
High capacity - It is a high-capacity basement dehumidifier designed for restoration purposes. In fact, this is the main reason why the unit can be relied on to remove moisture through the refrigeration process. It is compact in size, a thing that makes it ideal for small spaces application.
Rotary compressor- it ensures that extraction is maximum at the lowest possible cost.
Multiple ducting options- it ensures that the unit extracts 120 pints (Gray), 113 pints (Blue), 120 pints (Gold) of water each day.

It is compact and small in size- This makes it easier to install it in areas with limited installation spaces like the basement. 
The lightest and the smallest crawl space dehumidifier you will get out there. 
The humidity sensor ensures that short cycling goes away as quickly as possible.
It gives easy access to the units' internal parts. 
The unit draws a current of 4.1 amps making it the most economical dehumidifier on the market.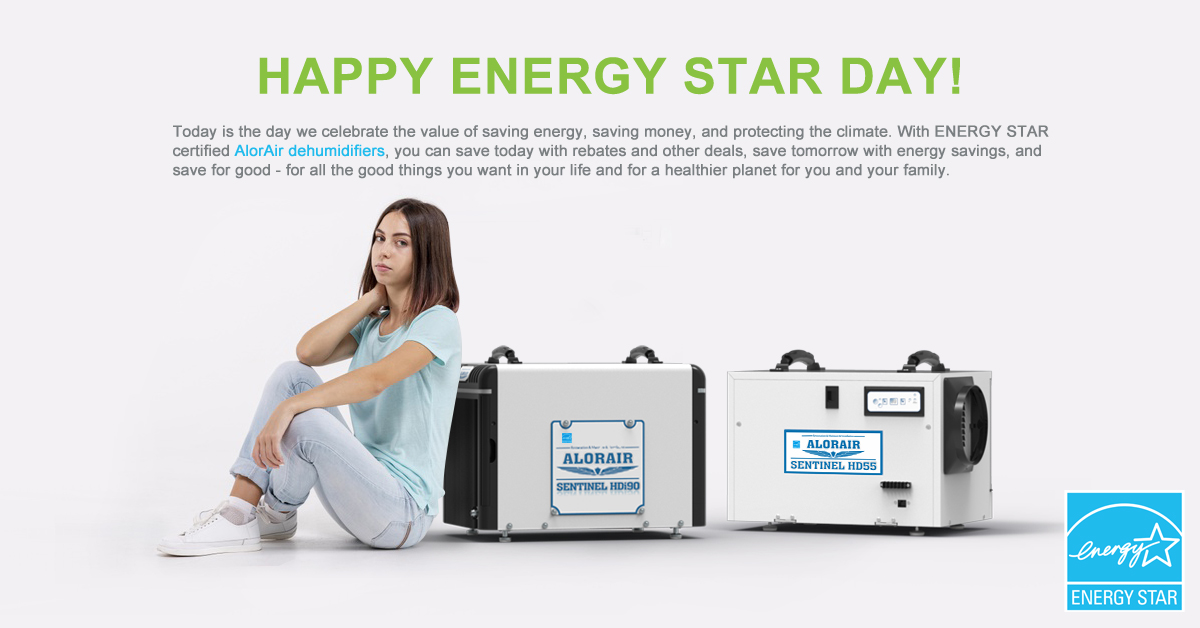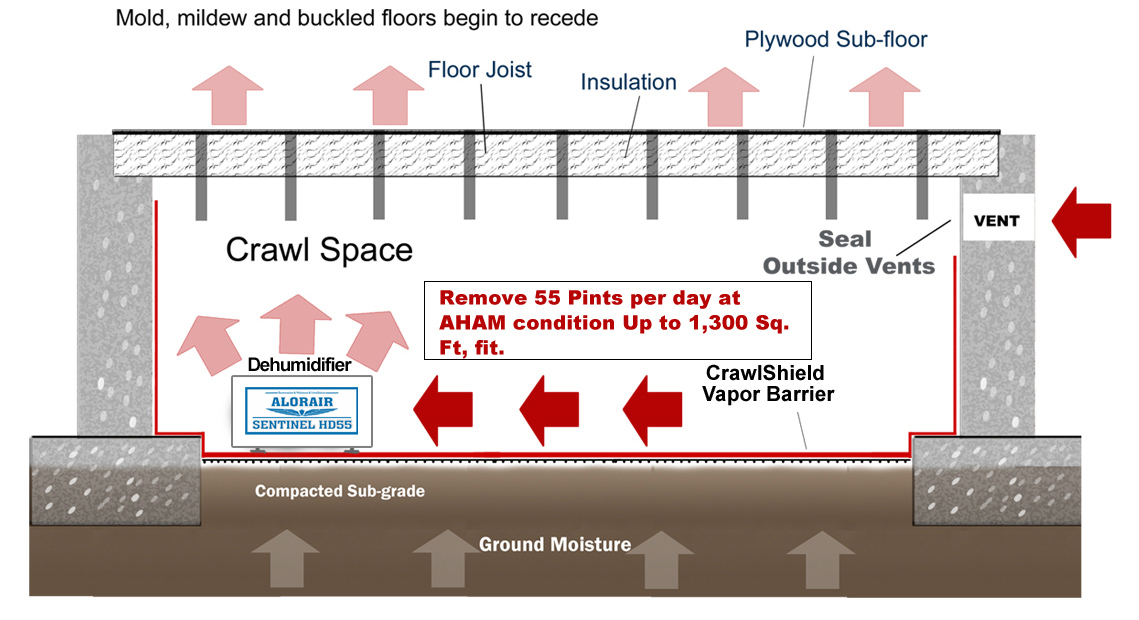 PRODUCT SPECIFICATIONS
Power: 115V/60Hz
Current: 4.1A
COP: 2.4 L/Kwh

Size For: Up to 1,300 sq. ft (Gray & Gold); 1,200 sq. ft. (Blue)

Filter: MERV-8 Filter
Airflow: 130 CFM, 230 CMH
Sound Pressure Level: <52 dBA
Feet: Adjustable Feet
Refrigerant: R410A
Draining: Gravity Draining
Defrosting Control System: Automatic Defrosting

Removable feet

 

Functioning Humidity Range: 35~90%

Functioning Temperature Range: 33.8-105℉




 

Capacity (Gray): 120 Pints/Day @saturation (90°F,90%)., 55 Pints/Day@AHAM (80°F-60%)

Capacity (Gold): 120 Pints/Day @saturation (90°F,90%)., 55 Pints/Day@AHAM (80°F-60%)


Capacity (Blue): 113 Pint/D @saturation (90°F,90%)., 53 Pints/Day@AHAM (80°F-60%)

Weight: 57.3 Ibs.
Dim (L X W X H): 19.2 x 12.2 x 13.3 in
Loading quantity: 40 "HQ: 792 Sets
 Warranty - 5 years
Guides & Documents 
What's In The Box
1 - Sentinel HD55 Basement Dehumidifier
1 - Drainage pipe 
1 - MERV-8 Filter
1 - User Manual