ALORAIR® STORM ULTRA 90 WI-FI COMMERCIAL DEHUMIDIFIER FOR WATER DAMAGE RESTORATION
A POWERFUL DEHUMIDIFIER IS A HIGH-CAPACITY DEHUMIDIFIER THAT IS WIDELY APPLIED IN DE-FLOODING, CARPET CLEANING, FURNITURE, AND FLOOD RESTORATION. 
THIS UNIT IS BUILT TO PROVIDE COMPLETE DEHUMIDIFICATION IN A LARGE SPACE OF UP TO 2,300 SQ. FT LIKE COMMERCIAL SPACES THAT PREVIOUSLY EXPERIENCED HEAVY FLOODING.
A flooded basement or wet carpets can be damaging; they attract unwanted pests, damage the inside of your house and furniture, and cause health problems.
The only way that you can protect your home or business from these conditions is by keeping things dry.

A commercial-grade portable dehumidifier like this AlorAir® Storm Ultra Commercial Dehumidifier For Water Damage Restoration is used in these situations. The machine comes with a 19.6 feet long pipe that can remove water from enclosed areas. It can absorb a high capacity of water in a day, making it ideal for flood restoration, carpet cleaning after water damage, and more.

Also, the Storm Ultra comes with an LCD display whose main function is to allow you to operate it. The humidistat helps you monitor the spaces to be dehumidified. It comes with large wheels and a metal handle that allows you to move the unit to the desired site with ease. In the event of power failure, the unit has an automatic restart function that gets it back on its feet immediately.
Why Buy AlorAir® Storm Ultra Commercial Dehumidifier For Water Damage Restoration?
1. If you have household items such as food, books, and medicine, it's important that you keep them safe. Storm Ultra is a commercial dehumidifier that will keep humidity levels low to keep allergies and moisture which can ruin your property at bay.
2. Household appliances such as computers, cameras, and other instruments can be damaged by moisture. But when you buy Storm Ultra, you will have the problem solved once and for all.
3. Prolonged humidity in crawl spaces and the basement can lead to moisture and cause some of your items to rot. Buying the Storm ultra is a sure way of keeping moisture levels low. It keeps your structural items safe.
4. Pets can only survive when the conditions are moist. But when you deploy Storm Ultra in your home, it eliminates moisture and creates conditions that are not conducive for their survival. You will end up with a pest-free environment.
5. Since the job of storm ultra is to remove humidity, it keeps your house and the environment safe.
6. Investing in storm ultra is the surest method of controlling moisture. It is energy efficient and will help you reduce your energy bills by $250 per year. When the dehumidifier works for your family, you will not have to run your HVAC and the thermostats. The equipment will help you maintain a stable relative humidity of less than 50 % and warm the house if need be. When you do this for a longer time, it eliminates the need to keep your thermostat on. It helps to improve the temperature and control your humidity.
7. The fact that it can help to remove 90 pints AHAM in an area extending up to 2,600 sq. ft. implies that it can be used to serve a bigger house.
AlorAir® Storm Ultra Commercial Dehumidifier For Water Damage Restoration is ideal for:
The storm ultra dehumidifier is a high-performance dehumidifier built for water removal in closed spaces that have had heavy flooding.
Due to its high capacity, the storm ultra dehumidifier can be used for numerous applications :
Drying furniture.
Flood Restoration.
Carpet drying.
De-flooding.
Laundry drying.
Can also be deployed in any space that requires humidity control such as:
Laboratories.
Offices.
Garages.
Basements and cellar.
Storage areas.
Safety Precautions for Using Storm Ultra Commercial Dehumidifier
To enjoy the full warrant the product comes with, ensure that you only power it using a grounded electrical connection. Also, the unit must be maintained and serviced by a competent technician.
Before using and operating it, ensure that it is in an upright position. It helps to stop the water from coming in contact with electrical components. It helps to prevent ruining the components.
Ensure that it is turned off and fully drained before moving it.
If you notice that the inside part of the unit is wet, it is recommended that you open and dry it.
For proper operation, position the inlet and the discharge away from the wall. The Storm Ultra house dehumidifier requires a clearance of 8''.  Also, check and ensure that there are no objects or fingers in the unit's inlet or discharge.  
Don't spray water directly on the unit. Always use a damp cloth to clean the exterior part of the unit.
Also, the unit should not be used in an environment with high VOC material or one that is corrosive.
The pump requires regular maintenance.  Also, ensure that you clean the coils at least once per year. You may use forming coil cleaner or spray it with self-rinsing.
Generally, ensure that the unit is serviced regularly. Only competent persons should be allowed to service it.
Using the Storm Ultra Commercial Dehumidifier
Before you deploy the tool to work, it is necessary that you position it in such a way that you give it an 8-inch clearance from the side and the back. It should also be directed to the spot you want to dry. If you are moving it to a different place, ensure that it remains vertical. After moving it, give the tool 30 minutes before turning it on.
Ensure that you attach the drain line via the units' quick connection. The connection is located at the back of the unit. Ensure that you route the drain line outside or a suitable place. The integral drain pump allows you to take the drain line vertically. But it can only drain at a maximum height of 15'.
Maintaining the Storm Ultra Commercial Dehumidifier
Ensure that you clean the unit using a damp piece of cloth. Use the piece to wipe the body and avoid spraying water to the exterior part.
The filter needs to be cleaned. You can choose to use the washable MERV- 8 filters. Just ensure that you replace them when needed. This way, it will guarantee that you will continue to enjoy the unit's service.  Note that the filter can be cleaned either by vacuuming or washing it.
Features of the Storm Ultra Commercial Dehumidifier
•    Auto Defrosting system
•    Heavy-duty Condensate Pump
•    Semi-pneumatic and Rigid handle- ensures maneuverability and easy transport.
•    Quick connector to the pump- this makes it easier to take it out by just pulling the connector.
•    High capacity with Supper COP
•    It features a built-in pump with an overflow protection
•    It is housed in a Back-up box – it makes it easier to disassemble the unit when you want to carry out internal servicing
•    Comes with quick connector hose/cable
•    Ridged handle that allows for easy transport
•    Uses Multifold filter (MERV-8, Prefilter)
•    Roto-moulding housing – it allows you to disassemble and assemble the unit whenever you want to clean the internal parts.
•   Rare earth alloy Tube Evaporator
•    Comes with a heavy-duty condensate pump
•    Feature an hour meter to provide accurate measurements.
•    An automatic humidistat- it is an internal humidistat which performs the job of monitoring the conditioned space. If the conditions outside surpass the desired set point, the unit energizes forcing air to be drawn across the rare earth alloy tube evaporator. The cooler coils turn the water vapor into liquid condensation. Once moisture has been extracted in the air, it is reheated and distributed into the room.
•    It can be ducted on the outlet side 
•    Comes with a warranty- the manufacturer warranties that the unit will operate free of defects for a period of one year. The refrigeration circuit has a 3-year warranty. And the compressor, evaporator, and condenser will work free of defects from workmanship or material for 5 years. In the event of defects in the parts, Alorair will meet the cost savings for refrigerant, transportation, and labor.
•    Comes with an LCD monitor – The display monitor helps you use the tool appropriately.  It helps you to set the required humidity levels and temperature. Also, it allows you to set the time when the unit should turn itself on or off. 
Key features: of the Storm Ultra Commercial Dehumidifier
APP Controller
ETL – certifications.
Multi Filters(MERV-8,Pre-filter).
Rare earth alloy Tube Evaporator
Quick interior access.
The quick connector to Pump (the pump can be taken out freely just pull out the quick connector)
Memory Starting.
Large Diameter Rubber Wheels and Ridged handle for easy transport.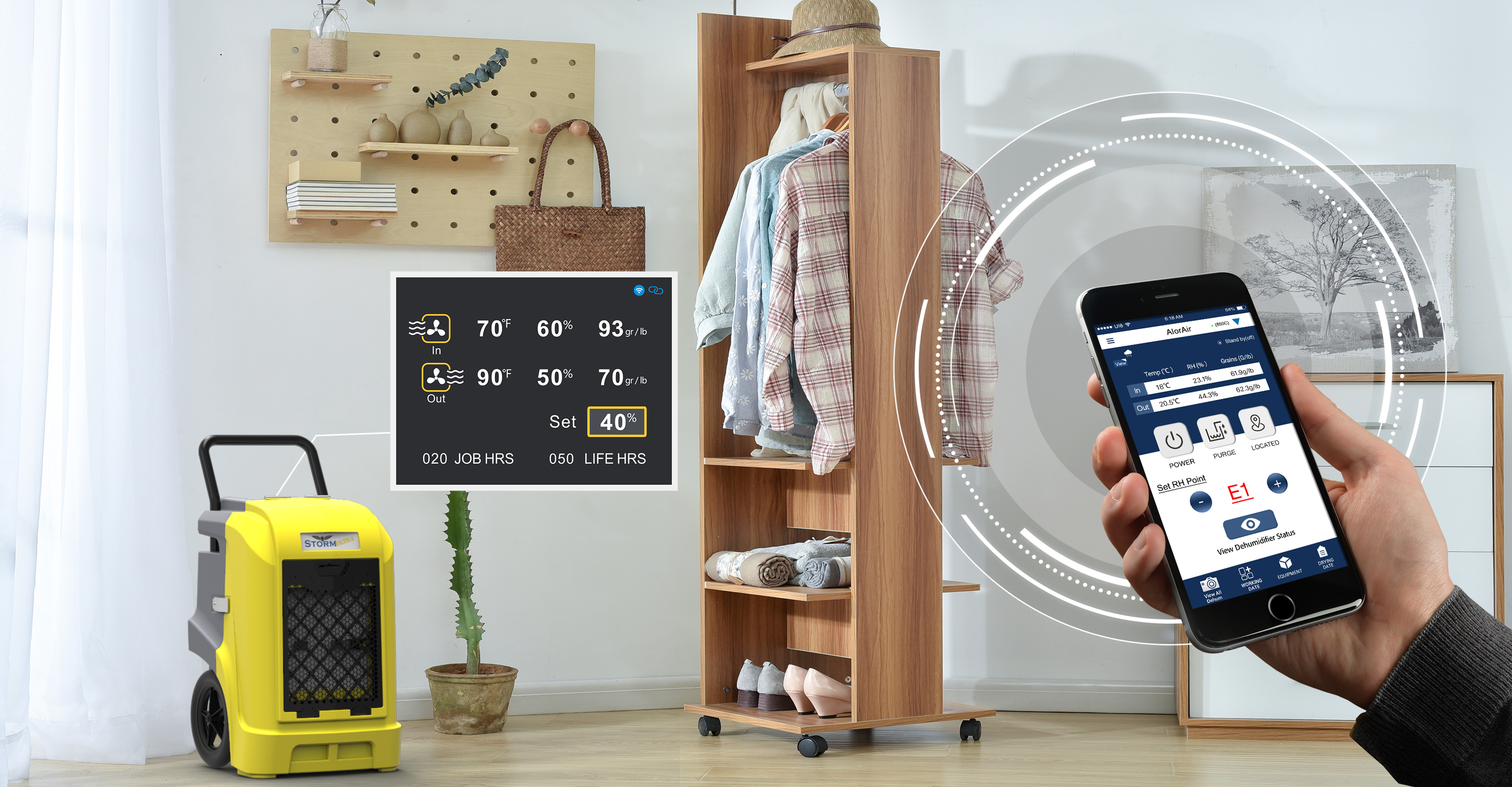 All-purpose use of the Storm Ultra Commercial Dehumidifier
Capacity. – The storm ultra dehumidifier is removing at least 90 pints (AHAM) of water per day while consuming only 5.56 amps of power. This high capacity dehumidifier is easily able to keep the humidity levels in a space of up to 2,600 square feet controlled.
Performance. – The storm ultra is the most preferred dehumidifier by many professional water damage and restoration experts because of its ability to provide excellent results, fast in a large-size space.
The storm ultra dehumidifier is equipped with the following key performance features:
Air filtration - storm ultra has normal air filters, HEPA filter, and activated carbon filters – all of which are used to cleanse the indoor air to make it healthier to breathe.
Easy and fast internal access - storm ultra dehumidifier can be disassembled in less than 10 seconds for fast maintenance.
Duct option - storm ultra dehumidifier can easily be ducted to the existing HVAC system to provide whole-house dehumidification.
Continuous pump drainage - storm ultra dehumidifier is equipped with a pump that can pump the water over 5 meters out of the unit via a pipe.
Durable outer cover - storm ultra dehumidifier has a roto-molded polyethylene cover that protects the unit from the severe environment is deployed in.
High COP dehumidifier - storm ultra dehumidifier is built using advanced technology that allows it to use up less power compared to other conventional dehumidifiers in the market.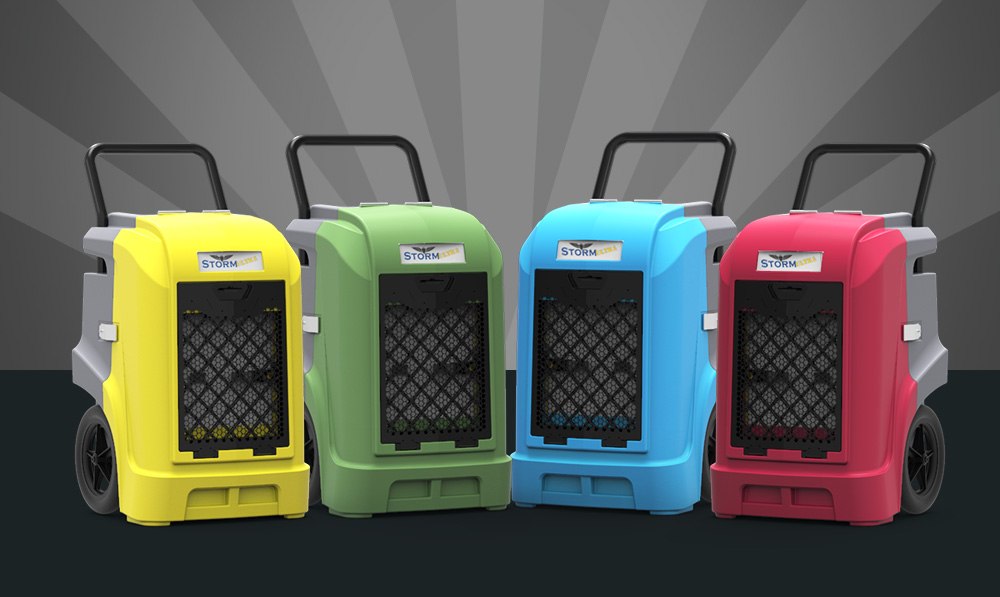 Warranty – The storm ultra dehumidifier has a 5 years extended warranty. At Alorair all our dehumidifiers are built to meet the highest standard of quality. The storm ultra dehumidifiers are thoroughly tested and proven to be capable of providing exceptional performance before they are allowed out of our warehouse.
Support -  At Alorair, we have a dedicated technical user support team, that is available efficiently via email, phone, or live chat to all our customers. We are dedicated to ensuring we help out all our customers with any inquiries, concerns, or challenges they may face while operating our products.
PRODUCT SPECIFICATIONS
| | |
| --- | --- |
| Power: 115V/60Hz | Refrigerant: R410A |
| Capacity: 90 Pints | Air low: 210 CFM, 350 CMH |
| Sound Pressure level: <58 dBA | Wheel: 2 Large Diameter Wheels |
| Defrosting Control System: Auto Defrosting | Size: up to 2600sq. ft. |
| Draining: Condensate Pump | Draining: Condensate Pump |
| Capacity: 90 pints | Current: 5.56 A |
| Weight: 99.2 lbs | Loading quantity: 20": 72 Sets;40": 160 Sets; 40" HQ: 240 Sets |
Guides & Documents
What's In The Box
1 - AlorAir® Storm Ultra Commercial Dehumidifier For Water Damage Restoration
1 - Drainage pipe
1 - Clean Air Filter
1 - User Manual