ALORAIR® SENTINEL HD90 
DESIGNED TO HELP LOWER HUMIDITY BY REMOVING WATER VAPOR AND MOISTURE FROM THE SURROUNDING.
BASEMENT & CRAWL SPACE ENERGY STAR EFFICIENCY DEHUMIDIFIER
Humidity is one of the most underestimated problems in the household. Even if it's not perceptible, it can cause catastrophic damage to your home or business and to your health. Moisture problems are common in basements, crawlspaces, and other areas where water vapor can accumulate, such as in spaces under the roof.

Not having a way to control humidity allows mold to grow easily. The result is higher maintenance cost, property damage, poor air quality, and lower property value. It is also the culprit in many cases of health problems. The dust and water vapor in the air tends to cause allergies and other health problems to humans when seen accumulated in large quantities.

Take control and reduce humidity to remove these risks and protect your loved ones and your potential investment.

The AlorAir® Sentinel HD90 Basement and Crawl Space Energy Star Efficiency Dehumidifier is one of the appliances that can be relied on to control humidity from the surrounding or any other section of the house by removing excess moisture in conditions where the humidity is unsafe.
The main purpose of this device is to extract excess moisture from the air causing mold, mildew, odor, condensation, etc. It does this by removing water vapor and humidity from the air using ion exchange. This process takes place when a negatively charged corona wire attracts moisture in the air, leaving dry air behind. It also reduces asthma symptoms caused by asthma triggers like mold, mildew, dust mites, and other irritants.

This device regulates the humidity levels without being loud or obtrusive. It can be placed in basements and other lower-level areas where high humidity is a problem and help you take control of your situation. An optional remote control is available for purchase so it can be placed in hard-to-reach areas.

Functions of the 

ALORAIR® SENTINEL HD90 Dehumidifier
1. It can be deployed to lower the humidity in your living and working spaces and make them habitable. If you are living in areas with high humidity, you need a basement and crawl space dehumidifier to control and regulate the humidity levels.
2. For those of you who live or work near a quarry, the air around you may contain millions of particles of stones. This could be a health hazard. So, you need Sentinel HD 90 to remove the particles. This is critical since it ensures that you remain healthy.  
3. If your house or business is poorly ventilated, a dehumidifier will help to clean the air and allow you to breathe fresh air.
4. People who live in apartments must have a dehumidifier in their houses to control mold and mildew spores. These allergens travel through ventilation systems and will always hide and build up in walls in apartments. They may pose great health risks to the members of your family. As such, having a working dehumidifier will keep the allergens at bay.

Why Buy AlorAir® Sentinel HD90 Basement & Crawl Space Dehumidifier
It is versatile and comes with features that allow it to dehumidify an estimated area of 2,600 sq ft. 


AlorAir® products are capable of improving the air quality of the entire house. They are equipped with specialized features that allow them to control humidity without creating discomfort for their users.


No more musty basement, less mold, and mildew, no more puddles on the floor. This will aid the ceiling from collapsing due to excess water weight.


It comes with a remote humidistat that allows it to be deployed in areas where remote sensing and controlling is required.

Since it allows for optional duct mounting, it reduces installation time meaning that you can mount it in a different location and dehumidify other rooms through the connected horse. 

It is a low noise level product that can be used to supplement air conditioning systems.
Save you money on expensive repairs to water condensing pipes, air conditioning equipment, hot water heaters, and even allergies related to mold. This can be considered as an investment that will save you on future expenses which are directly proportional to the environmental control for your house.



The unit features a unique dual airflow outlet and is an ideal solution for basement humidity problems. You can create a comfortable environment in your home without worrying about air quality.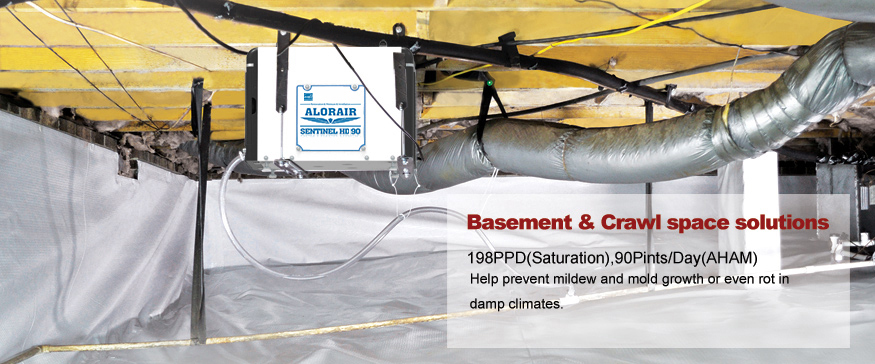 AlorAir® Sentinel HD90 Basement & Crawl Space Dehumidifier is ideal for:
Homes

Computer Room

Storage areas

Basement & Crawl Space
Tip: If you want to get the best results, you may need to place the unit in any of the unfinished sections of the basement, A duct tube should then be directed to the rooms that need to be dehumidified. Putting the return grill in the finished section of the basement allows air to circulate throughout the basement. For optimal air circulation in the basement, ensure that you leave the doors of the basement open.
AlorAir® Sentinel HD90 Basement & Crawl Space Energy Star Efficiency Dehumidifier Features
1. Through pipe drainage
For effective draining, route the drain line out into a pit. Check and ensure that it is flowing downward and should not have valleys, dips, and loops. You may use a PVC pipe to direct the water out. The unit drains by the force of gravity so, ensure that it is completely defrosted when storing it.
2. Automatic Defrosting system
It ensures that ice is quickly cleared from the coils even when under its minimum operating temperature of 33F.
3. Rare earth alloy Tube Evaporator
To avoid Freon leakage, a fatal flaw for a dehumidifier, AlorAir has introduced a Rare earth alloy Tube Evaporator. This innovative feature extends the life of the coils by providing protection against, maintaining the coil's heat transferability.
The unit is ETL, Energy Star approved. It is one of the crawl space dehumidifiers that are patent protected and uniquely designed with a bypass air design with short- cycling. This is what makes it save on energy.
5. Optional ducts
It allows you to duct the unit. This ensures that the unit can be used in rooms that are located on the extreme ends. Use 12''flex and 6'' flex to duct the unit.
6. Comes with a warranty
This is a 90-pint dehumidifier that comes with a warranty plan. Ensure that you register it as soon as you buy it. It allows you to get it serviced or replaced under the warranty terms.
7. Compatible with Remote Control.  (Notice: sold separately).
The unit comes with an optional duct and can easily be connected to an existing ducting system and used in places that need remote sensing. Also, it makes it possible to use the dehumidifier in areas that are difficult to access. This is why it is suitable for dehumidifying the crawl spaces. You can mount the unit in the garage or living spaces and monitor it dehumidify.
8. Other features
Allows quick access to the units mainboard
HVAC Remote system
Small size and weighs about 79.6 lbs.
Designed to work in a low-temperature operation
 

PRODUCT SPECIFICATIONS
| | |
| --- | --- |
| COP 2.69l/Kwh | Current: 5.56 A |
| Power: 115/60 Hz | Air Flow: 210 CFM 350 CMH |
| Size for:  Up to 2600ft | Sound Pressure level < 58DBA |
| Wheel: Adjustable  wheel | Filter: Pre Filter (Optional MERV-8 Filter) |
| Refrigerant: Adjustable | Draining: Condensate Pump |
| Functioning temperature Range: 33.8-105°F | Weight: 79.6 Ibs |
| Defrost Control system: Automatic Defrosting | Humidity range: 35~90% |
| Loading quantity : 20": 180 Sets; 40": 412 Sets; 40"HQ: 515Sets | Dim(W x H x D): 23.2 x15.2 x 17.7 in |
What's In The Box
1 - AlorAir® Sentinel HD90 Basement & Crawl Space Energy Star Efficiency Dehumidifier

1 - Drainage pipe

1 - Clean Air Filter

1 - User Manual